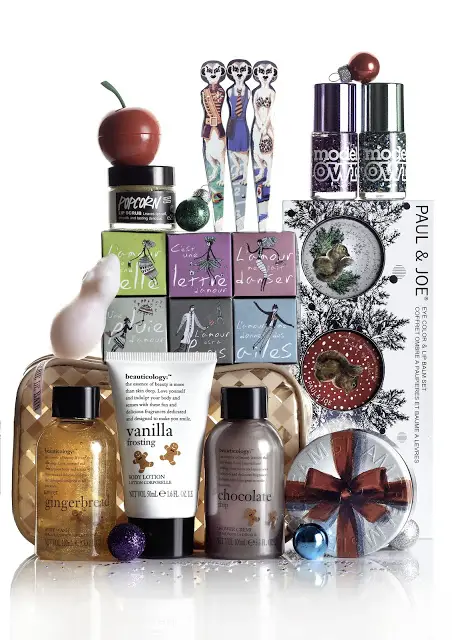 The Stockings Were Hung By The Chimney With Care…
I've teamed up with Louise from The Beauty Pages 
for our joint gift guide this Christmas. We're also very lucky to have had the photographic talents of fashion and beauty photographer Caroline Leeming, whose site is HERE.
So, a round up of what's on our hot-list for glamorous beauty gifting. 
Clockwise from top left:

LCN Baked Apple Lip Balm, £6.80 (www.beautyconcepts.co.uk)
Meerkat Tweezers, £2.99 (www.alida.co.uk or 01707 292 938)
Models Own Mirrorball Nail Polish in Dancing Queen and Boogie Nights, £5 each
(www.modelsownit.com)
Paul & Joe Winter Wonderland Eye Color and Lip Balm Set, £39 (www.asos.com)
SteamCream 3 in 1 Moisturiser, £19.95 (for set of two) (www.asos.com)
Beauticology Gingerbread Toiletry Bag Gift Set, £10 (www.baylisandharding.com) 
Sugar Mouse Soap, £8 (for set of 4) (www.rose-apothecary.co.uk)
Fragonard Solid Cream Perfume D'amour Gift Box, £24 (www.marksandspencer.co.uk) 
Lush Popcorn Lip Scrub, £5.25 (www.lush.co.uk)